Termite Treatment in Jacksonville, FL
Termite infestations can quickly spiral out of control, causing irreversible damage to your property. Termites can infiltrate your home or business in many different ways, from wood stored on the ground outside, a chimney with a damper left open, or even termite tunnels under the dirt can provide an entryway into your property. It's unlikely you'll spot termite swarmers flying into your home or business until it's too late.
The most common species of termites in Jacksonville are:
Eastern Subterranean Termites

Formosan Termites

Drywood Termites

Dampwood Termites
It's important to schedule regular termite inspections to prevent and treat infestations!
How to Determine if You Have Termites
To spot a termite invasion, it's essential to learn about their appearance and the damage they can cause. Unlike ants, termites have straight waists and antennae, and their wings are all the same size. Swarmers will discard their wings near entry points such as windows and doors. By keeping these identifiers in mind, you can easily recognize a termite problem when you discover one. Busy Bee Termite & Pest Control understands the impact termites can have on your life or business. Our team of termite exterminators in Jacksonville is dedicated to providing efficient and lasting solutions for termite infestations.
Our Termite Treatment Options
After assessing the extent of the problem, we will help you choose a solution that best suits your needs. Let us turn your termite problem into a thing of the past.
Sentricon Termite Control in Jacksonville
The Sentricon System lets us target termites at their source – the colony. The Sentricon System is the best baiting and monitoring approach for protecting structures from subterranean termites because it eliminates the colony while being non-disruptive to property owners. The Sentricon System is proven long-term protection against termite damage.
 The steps to Sentricon Termite Treatment in Jacksonville include:
First, your home will be inspected for signs of termites.

When termites are found in one or more stations, they will be transferred to a bait tube device containing Recruit II termite bait, which is then placed in those stations.

Sentricon stations will be placed in the soil around your home.

The captured termites will feed on Recruit II, tunnel out and send other colony nestmates back to feed on the bait.

 A

s they do, the colony starts to decline and will eventually be eliminated.

The stations will be checked regularly for termite activity.

After a colony has been eliminated, the bait will be replaced with a new monitoring device. 

We will continue to monitor the system to discover a new colony that might invade your property.
Sentricon protects your home more gently than traditional control methods. When installing Sentricon, your technician won't need to drill through the floor or foundation and is not likely to disturb shrubs or other landscaping. Monitoring and baiting can be done without even entering your home.
Termidor HPII Termite Treatments in Jacksonville
Termidor HPII is a new type of termite control that, for over 20 years, has faced the stiffest tests that both US and foreign researchers could throw at it. Without exception, Termidor HPII passed with flying colors. In fact, no other termiticide in history has consistently returned '100% effective' results whenever and wherever it was used.
For you, '100% effective' means that you can now choose a termiticide that not only eliminates termites from your home or business for at least the next 5 years. It also gives you 100% peace of mind.
Termidor HPII works in a few ways:
Termidor HPII is non-repellent. Termites can't smell it, see it or feel it. Since they don't know it's there, they forage freely in a treated area.
Termidor HPII is lethal to termites when they contact or ingest it. This means that termites don't even have to ingest it to die from its effects.
As well as eating Termidor HPII, a termite will also unknowingly pick it up and carry it back to the colony on its body. Thus, every other termite it contacts, feeds or grooms will itself become a carrier, contacting and infecting others.
Bottom line, this means that you can count on 20 years' worth of 100% termite protection when you choose Termidor HPII because it has changed the way we go about dealing with termites in all of Florida.
WDO Inspections in Jacksonville, FL
When you consider that termites cause some $5 billion dollars in property damages across the country each year, it can give you a good idea of how much money you may have to come up with to repair your home. Fortunately, a proper WDO inspection can catch termite activity before these insects have a chance to destroy your property.
Florida law requires that all WDO inspections be performed by a licensed pest control company that utilizes technicians who have been properly trained to easily identify the presence of termites and other wood-destroying organisms. This form of early detection is the first line of defense against huge repair expenses, and this particular inspection is often utilized during real-estate transactions as a way to help protect the buyer.
Possible Damages From Wood-Destroying Organisms
Eastern subterranean termites are the most destructive culprit here in Jacksonville, and it's not only wood-frame homes that are at risk. These insects are capable of chewing into your home from below even if it's made of materials that include concrete block, stucco, brick, or stone. Once they have burrowed inside the walls of your home, these termites won't stop eating until they've completely hollowed out each wall. This can cause structural damage that is so severe that it could lead to it being unsafe for continued habitation. Termites will eat any wood portion of your home, and this includes porches, window and door frames, and even the furniture and any books inside of your home.
Image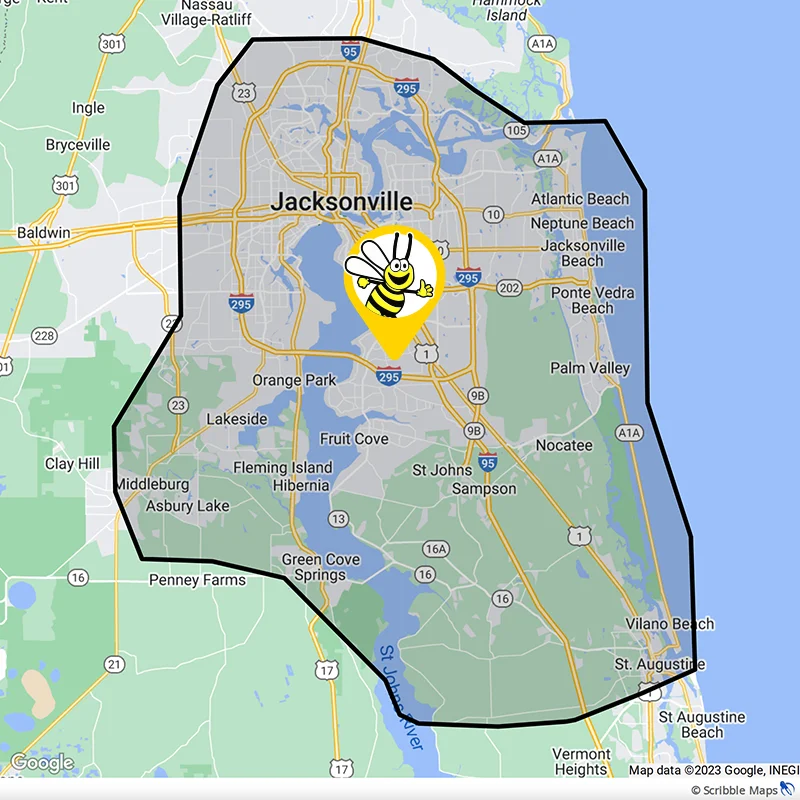 Areas We Service in Jacksonville
Busy Bee Termite & Pest Control is proud to service the greater Jacksonville, FL area. Check out or service area & contact as if you don't see your city listed!