Pest Control in Orange Park, FL
Hugged by the St. Johns River and immersed in weather envied by visitors year-round, Orange Park has its share of pest invasions. Luckily, we at Busy Bee Termite and Pest Control have our share of experience in removing Florida's most problematic pests and delivering peace of mind to home and business owners since 1993. We pride our locally owned business on going the extra mile for our Orange Park customers with revolutionary services, including:
Termite treatments.
Bee and wasp removal.
Ant extermination.
And more!
Our IPM practices and professional affiliations with NPMA and FPMA ensure our methods are carried out by insured and licensed pest control technicians who put you and your family's safety above everything else. If your residential or commercial property is plagued by damaging and dangerous pests, call Busy Bee Termite and Pest Control and we will handle the problem quickly. Get a free quote today!
Image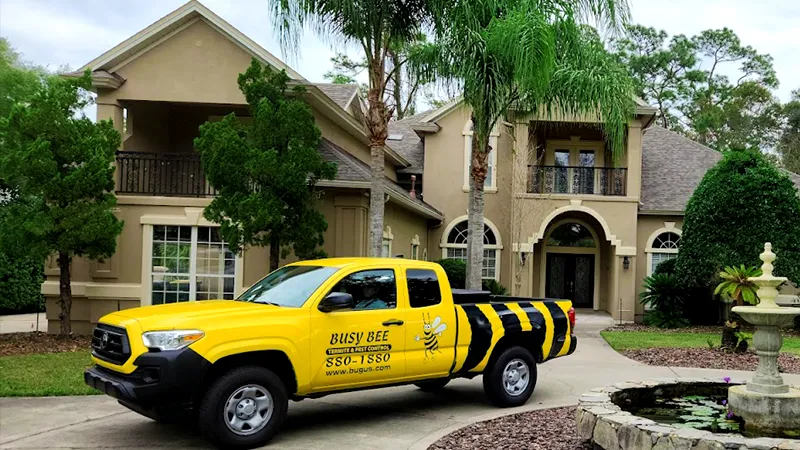 Image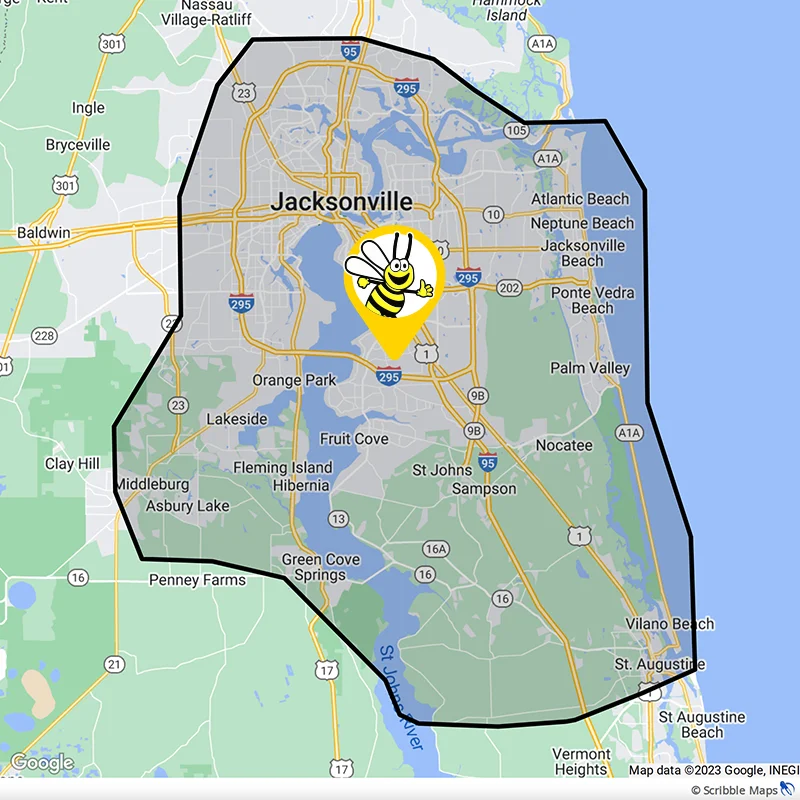 Termite Control in Orange Park
Subterranean termites thrive in warm moist environments, and tend to find Orange Park homes and businesses ideal for a colony invasion. Discovering evidence of a termite infestation and knowing how to identify termites can save you thousands of dollars in structural damage.
Get Professional Termite Treatment if You:
When you alert us of a termite problem, Busy Bee Termite and Pest Control acts quickly to avoid further structural damage and return your peace of mind as soon as possible. Our pest control experts begin with a full property inspection to identify where the invasion is taking place. Whether it is in one area or has spread throughout the building, we work with you to provide a solution to eliminate the entire colony. Our termite treatment relies on 2 of the world's most effective termite extermination systems: Termidor HPII and Sentricon. Both are proven to eradicate invasions completely and keep your space termite free for years to come.
Find discarded wings near windows and doors.
Discover mud tubes around your home's foundation.
Notice collections of what looks like coffee grounds on window seals (these are termite droppings).
Bee and Wasp Control in Orange Park
You can appreciate our environment's pollinators and want them out of your yard. Bumblebees, honey bees, and mud dauber wasps are relatively harmless to humans and do their part in beautifying gardens and pest control, but swarms of either along with the notoriously aggressive yellow jacket and paper wasp can deter customers from entering your business and make your yard an unsafe space. Busy Bee's professional bee removal and wasp extermination services clear away the presence and threat of these stinging insects, making your property safe for visitors with serious bee allergies and pets that may unintentionally invade a nest. Bee removal is a practice done best by our insured pest control specialists because we have the protective gear and the correct procedures to extract bees and wasps from the area without compromising the benefits they bring to the environment. Whether you need bee removal or a wasp exterminator, we will arrive at your property to identify the type of insect you're dealing with and locate the nest. From there, we develop a treatment plan that returns your outdoors to a safe space in no time. Get a free quote on our bee and wasp removal service!
Ant Control in Orange Park
Of the approximately 20 different ant species that inhabit Florida, the most damaging ones tend to colonize inside residential and commercial properties. Two of the most problematic ant species in Orange Park are:
Carpenter Ants:
Large (¼ - ¾ of an inch long) ants ranging in a mix of color from black to orangey-brown. A carpenter ant infestation is a structural hazard because colonies burrow through wood to nest, weakening support beams and walls. In regards to costly repairs, a carpenter ant infestation can be as damaging as termites.
Crazy Ants
Small (1/8 of an inch), reddish brown in color, and often mistaken for fire ants. A crazy ant colony, however, behaves erratically without cause. Crazy ants will swarm yards and homes, causing irreversible damage to your electrical devices such as switch boxes, computers, and cell phones.
Store-bought home treatments have proved to be ineffective for both a crazy ant and a carpenter ant infestation. Our trained and licensed professionals at Busy Bee have the tools and strategies to exterminate entire colonies and make ant invasions a thing of the past. We provide a thorough inspection to target where an infestation is taking place. In line with our IPM practices, we also identify triggering sources to prevent another infestation in the future.